Shadow Physics
This is very, very cool — a platform game in three-dee space using shadows to represent player and platforms …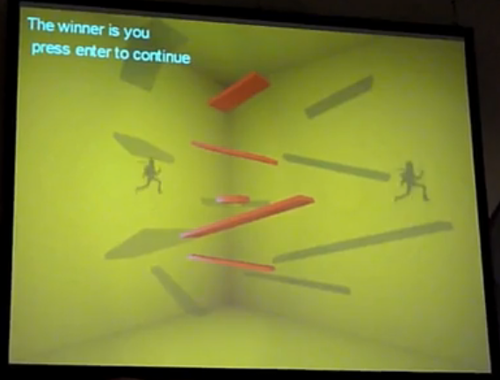 The above screenshot demonstrates a scenario with two light sources. Note the two shadows for the player character: these two shadows move in tandem, are blocked in tandem, and solve puzzles in tandem. The shadows in the screenshot are jumping; the shadow on the left is blocked.
A remarkable accomplishment by developers Steve Swink and Scott Anderson — bravo!
Via YouTube:
Steve Swink and Scott Anderson demo their shadow platforming game, Shadow Physics, at Sense of Wonder Night 2009 (Tokyo Game Show).

While Steve does do game design at Blurst/Flashbang, Shadow Physics is an entirely independent side project. More information will soon be available at shadowphysics.com.
Dateline: Thursday, October 1st, 2009 at 10:52 am
Author: the_handy_vandal
Leave a Reply
You must be logged in to post a comment.