Archive for February, 2010
Behaviorist Game Design
Posted by: the_handy_vandal
Dan Lawrence recently posted a thoughtful essay about ethics, psychology, and game design: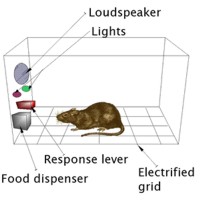 It seems to me that the very interactivity of games that makes them so compelling also makes considering their ethical dimension more vital. Every game is a system that you interact with; listening to and responding to your actions in a certain way. While the game is responding to you, you are responding back to it even if you don't realise it. Every game is teaching your brain something, every game is a dialogue with its player.

It worries me that this power of games to teach and train their players is either not understood or being wilfully misused for commercial gain. It doesn't strike me as ethical to train a player to want to do something that they wouldn't want to do in the absence of an external reward.

One particular example that always sticks with me is how closely the reward system of item drops in most modern roguelike games closely mirrors psychological research on the most effective methods to encourage repeated human (and animal) behaviour. By which I mean they could train mice to hit buttons over and over again by rewarding them in a certain way for this behaviour, even though the mouse would never normally perform that action.

Behaviourist psychologists spent a long time analyzing which type of reinforcement strategy was most effective in conditioning animals to respond how they wanted … the 'best' schedule is variable reinforcement where a reward is given not every time an action is performed but at a random time conforming to an average.

Whether designers are doing this deliberately or subconciously I believe its damaging to the people who play these games and obscures what is otherwise often excellent craftsmanship and polish in their production. There can be excellent intrinsically rewarding game design built up around this core unethical mechanic but that conditioning mechanic is still there lurking at the centre.

- Dan Lawrence @ Robotic Shed
See also Behaviorism @ Wikipedia.