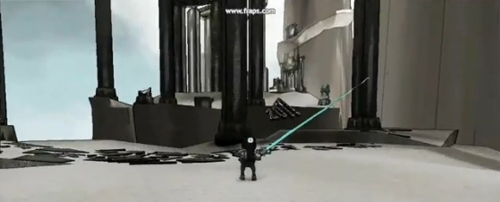 Now this looks like irresistable fun: Tiny & Big gives you a laser that slices everything in two. Everything! Laser slices rock, rock splits in two. Laser slices pillars, pillars come tumbling down ….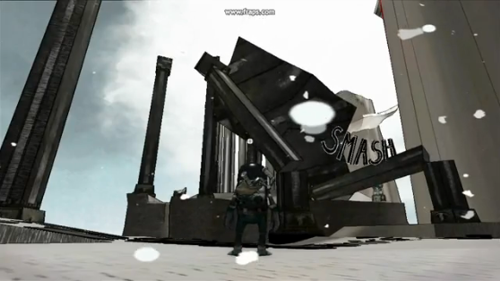 A clever idea — very simple, very elegant — with lots of potential.
And be honest: who among us hasn't thought: I wish I had a laser that could cut down skyscrapers!
I love the "Zot" and "Crack" and "Smash" messages that appear in response to your actions — I'm reminded of the old-school Batman "Pow!" and "Biff!" schtick from the 1960's.
In addition to the laser, you get a gripping device. This shoots out a cable that latches onto things so you can pull on those things.
The screenshots above don't do justice to the excellent game physics. You really need to see these in-game videos to appreciate the full effect: