These lovely objects belong in a game somewhere. They really do: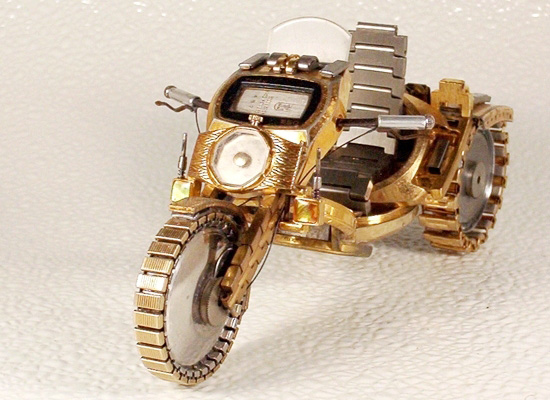 motorcycles out of watch parts by dkart71
Someone, please, make a game where the player constructs a motorcycle made out of watch parts, and then rides to safety:
Shrink the player until a wristwatch is the right size for motorcycle parts
Drop the player into a magical (high-tech, alien, etc.) wristwatch factory
— My person favorite: neo-retro Evil Nazi wristwatch factory
Remind the player that watch parts can be assembled into motorcycles
Sound the burglar alarm
Start winding up the clockwork watchmen, make it loud
Remind the player that watchmen are dangerous, and motorcycles go faster than watchmen
Every so often, wind up more clockwork watchmen, as incentive for the player to finish that motorcycle ….
If the player doesn't build a motorcycle in time … well, bad things probably happen … if it were my Evil Nazi Wristwatch factory, I would release the Giant Wind-Up Chattering Teeth … but you have your own kind of fun, and be sure to let me know about it, I'll award you the Handy Vandal Medal of Supreme Coolness.
Via Boing Boing.