"OpenWorm is an open source project dedicated to creating a virtual C. elegans nematode in a computer."
openworm.org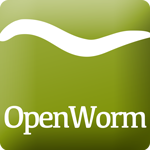 Via Boing Boing:
Wagner James Au sez, "OpenWorm, as the name suggests, is a collaborative open source project to computationally create a simple artificial life form — an earth worm — from the cellular level to a point where it's sophisticated enough to solve basic problems. They're still in early stages, with the latest demo, a developer on the project tells me, being 'a particle simulation of five connected muscle segments moving together through a body of water.'"
See also Caenorhabditis elegans @ Wikipedia:
Caenorhabditis elegans /ˌseɪnɵræbˈdɪtɪs ˈɛlɛɡænz/ is a free-living, transparent nematode (roundworm), about 1 mm in length, which lives in temperate soil environments.

Yes. The Handy Vandal approves. More of this, please.
Update: October 14, 2013
I added this post to the "Somebody Should Make This Game" category.
Modeling a nematode is fine, hooray for Science.
But man does not live by Education alone — we also need Entertainment.
Can I get a giant weaponized self-assembling cyber-nematode as a first-person shooter, in a secret weapon-breeding hive beneath a Soylent Green factory? Anyone …?
I'd pay to play that game!