From a recent book review at Slashdot: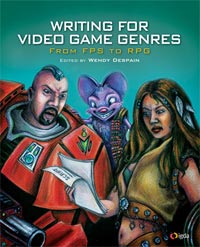 The third book in a pseudo-trilogy, Writing for Video Game Genres: From FPS to RPG, offers advice from 21 experts in the field of video game writing, pulled from the ranks of the IGDA's Game Writers Special Interest Group and wrangled together by editor Wendy Despain.

… The book covers everything from FPS to RPG, from MMO to ARG, and the entirety of alphabet soup in-between. Each chapter covers the particular challenges of writing for one particular genre, and generally offers specific tips on how to overcome those challenges when writing for that genre.

– Slashdot
Available at Amazon.com.