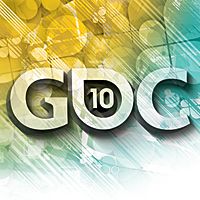 Game Design Conference 10 is in progress, and the blog posts are blooming:
Jonatan Soderstrom, aka "cactus," stole the show at last year's Independent Games Summit with his surreal, multimedia presentation entitled "The Four-Hour Game Design."

(Also: if you don't know who cactus is, I'd suggest you spend the next week playing through every game he's ever made. They're alternately wacky, fun, surreal, irritating, totally independent experiences.)

This year, cactus delivered a talk about, in his words, "abusive design, and why you'd want to be mean to your players."

… So, why would you want to be mean to your players? According to Soderstrom, most games are really easy, and worrying about what your player may be feeling and if they feel comfortable can compromise your vision as a designer. It's more fun to just be free, and do what you want to do without caring how the player will feel. You can also find new players if you do something unusual — a lot of people don't like "normal" games.
See also GDC 10.