IEEE Virtual Reality 2010
March 20-24, 2010
Waltham, Massachusetts USA

IEEE VR 2010 is the premier international conference and exhibition on virtual reality.

You will find the brightest minds, the most innovative research, the leading companies, and the most stimulating discussions in the fields of virtual environments, augmented reality, 3D user interfaces, and haptics, all gathered March 20-26, 2010 in Waltham, Massachusetts, USA (just West of Boston). We invite you to submit your work, show your products, and join us for a fascinating week of presentations, exhibits, workshops, and special events.

The greater Boston area is home to over 50 video-game companies. At this year's conference, we will promote the cross-fertilization of gaming and VR through several efforts. If your work lies at the intersection of VR and gaming, e.g., Serious Games for Education or Health, we look forward to your contributions.

Once again, IEEE VR 2010 is pleased to be co-located with the IEEE Symposium on 3D User Interfaces (March 20-21) and the Symposium on Haptic Interfaces (March 25-26).
I'm not planning to be there, alas. Would that it were so — I have great faith in the power of Serious Games for Education or Health.
Which reminds me: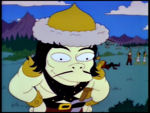 Virtual Reality Genghis Khan:
Hello, Lisa!
I'm Genghis Khan.
You'll go where I go!
Defile what I defile!
Eat who I eat!