Dr. Scott Nicholson's interests include libraries and games, and gaming as pedagogical tool. He is a visiting scholar with MIT Comparative Media Studies for the 2011-2012 academic year, working with the Singapore-MIT GAMBIT Game Lab and The Education Arcade.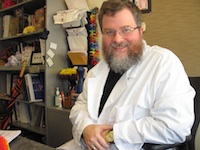 GAMBIT recently posted a podcast of Dr. Nicholson addressing the MIT Comparative Media Studies group:
Listeners will learn about a variety of game mechanisms through discussions of exemplar games and see how these games relate. Many of these mechanisms are appropriate for digital games as well as tabletop games, so listeners will improve their toolkit of mechanisms for their own design work.