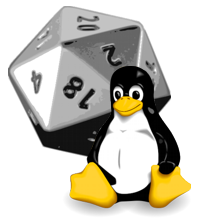 Slashdot recently posted a request for linux games that don't require a gamer box, just a simple video card. I've compiled some of the links:
FreeCiv (warning, highly addictive! ~HV)
Doom II
Quake Live
Linux games @ Wikipedia
"Cube, OpenArena, Nexuiz are all fair FPS games. Not amazing, but fun diversions. Aside from that BZFlag, Battle for Wesnoth, and FreeCiv. A word of advice: Never play Frozen Bubble. I've lost days thanks to that bastard."
"OpenArena, Warzone 2100, Urquan Masters, and Frozen Bubble should top your list of Linux games. Also check out Urban Terror, it is a close analog of CounterStrike."
"Tremulous has been my favorite linux FPS for a long time."
"Homeworld is available for Linux. Great stuff, strategic space combat, real time."
XJewel
PlaneShift – "excellent open source mmorpg"
Sauerbraten, Nexuiz, Tremulous, Warsow (first-person shooters)
"Altitude is my favorite game ever. It's a multiplayer airplane/dogfighting game with really satisfying combat."
"OpenTTD (which is based on Transport Tycoon Deluxe) is a great game and you can quickly loose track of the time building intricate train networks. You do need the original game files but this is pretty easy to do with the help of Google."
Vendetta – "a space shooter with role playing elements"
Nethack
"In order of my personal preferences, I'd suggest NetHack, Angband, NetHack, SLASH'EM, NetHack, ADOM, NetHack, and, oh yeah, NetHack."
"If it exists, you can find it at playdeb.net"
"It's definitely not new, but Unreal Tournament 2004 is available for Linux. Unreal Tournament 3 is still under development — very slowly."
Call of Combat – "r/t squad-level infantry combat, pure tactics"
Glest – "Try it. It's a strategy game, and FOSS. Unusual combination."
Aleph One – "If you like the Halo-like FPS games, there's always Marathon through the AlephOne project"
VegaStrike – "This one is a pretty good space flight simulator, with trade and combat missions to earn money to upgrade your ship and weapons."
Ur Quan Masters – "(was: Star Control 2) is a masterpiece of a game
Conquer Club – "If you like Risk, this is kind of similar but way better. Play online with others, on a wide variety of maps and variety of rules."
OOlite – "I stopped because that was all I was doing."
Mille Bourne – (I played the card game version in high school French class; great fun. ~HV)
DROD (Deadly Rooms of Death) – "puzzle games with story lines and lots of humour."
OGame – "classic 4X sci-fi/space game with a brand new pimped-out Ajax interface and fresh GFX"
Ikariam –
"Settlers/Civilisation type Browsergame."
Wild Guns – "BG with a Wild West setting"
KingsAge – "old-school BG, Defender of the Crow / Middle Ages Camelot style"
20,000 Light Years Into Space
Globulation2 – "a RTS but without focus on individual units"
"Get an atari 2600 emulator (stella for example) and play space invaders or pac man"
Source: Slashdot
Not all of the above are strictly linux games (some are web-based), nor are they strictly for non-gamers.